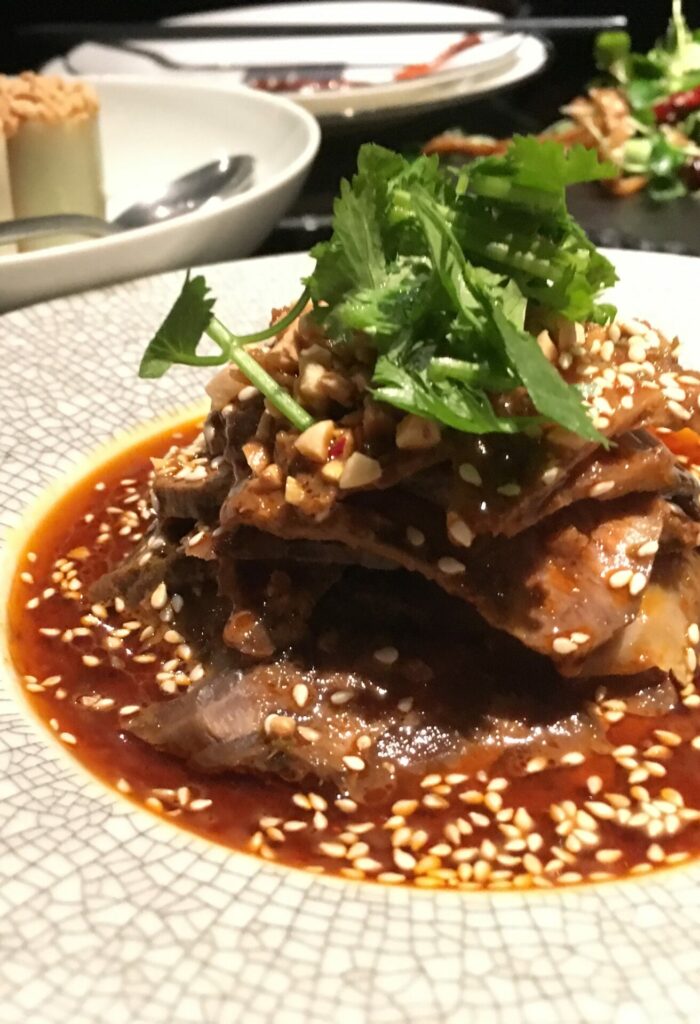 ESSAYS FROM NICOLE MONES ON THE HISTORY, CULTURE AND ART OF CHINESE CUISINE
Interested in China's unusual ingredients and cooking techniques, cool scenes from Chinese food history, and exciting news from the dining world? Welcome to The Last Chinese Chef's stepchild, its Culinary Companion.
I'll admit it – one novel isn't enough, even if it does have readers in twenty-two languages.
I still have more to say about Chinese food!

Nicole Mones
Culinary Companion CONTENTS
Banquets & Feasts Yànhuì   宴会

Banquet cuisine is one of Chinese food's crown jewels, a stage on which chefs can let go with imagination, artistry, and extravagance. Remarkable dishes are created for banquets, dishes that are about far more than eating pleasure and lovely presentation—because a great banquet has form, pace, and meaning, all of which the dishes support. Thematic resonance extends beyond the food to the room, the table, the serving ware, and even the invitation. Banquets have historically been at the apex of the dining culture that drives guānxi (关系), relationships, and have long attended weddings, funerals, important birthdays, holidays, and celebrations of all kinds. Whole clans hold feasts; whole villages. But throughout history, the banquet has also been the province of gentlemen connoisseurs, who expressed their personal artistry by designing and hosting feasts to celebrate art, literature, the natural world, the change of seasons, the appearance of a highly anticipated seasonal food, or simply a gathering of friends.

Classic menu structure rests on mathematical symmetry, but is open enough to allow the host and/or chef to express his own style and taste (elegant? Rustic? Lavish?). A simple banquet might follow four (or eight) cold dishes with four (or eight) hot dishes. Often the cold dishes (appetizers) will be a multiple of the hot dishes, or vice versa. The hot dishes tend to climax with a feature protein dish such as a deboned stuffed duck or whole fish. In addition to these groups, two or three "pause" dishes, such as light, simple stir-fries, might be served for relief. If a starch such as rice or noodle is to be included at all, it will appear toward the end. The denouement will be a fairly simple dessert course, often a luxurious sweet soup. Within this frame, the host/chef uses the menu to articulate the meal's resonance, and to orchestrate the atmosphere. For example, very subtle dishes compliment the diner, because they require discernment. Artifice dishes delight and awaken, like mental palate cleansers. Dishes that carry symbolism and stories shape the resonance. Finally, dishes of luxurious extravagance indulge the diner, though this last effect, when overdone, has drawn criticism in prior eras from the foodie elite (who tended to be literati). In the eighteenth century, Yuan Mei wrote, "Don't eat with your ears! By this I mean, do not aim at having extraordinary out-of-the-way foods just to astonish your guests… Don't eat with your eyes! By this I mean, do not cover the table with innumerable dishes and multiply courses indefinitely." His complaint still sounds quite fresh today.

A salt merchant named Tong Yuejian, who lived in the late eighteenth century, wrote a book on the haute cuisine of his time which he titled Classic Cooking. His hand-written manuscript, not edited and published until the late 20th century, offers a window into the banquet structures of his time. He saw a banquet as 16-4-4-4-4 (16 appetizers, 4 fried foods, 4 stir-fries, 4 braises, and 4 rice or dim sum dishes. Alternatively, he favored 16-8-10-4-4. Banquet menus may follow trends from one era to another, but the appeal of numerical symmetry seems to be a constant.

Famous Banquets and Banquet Traditions. Certain feasts are so amazing that they remain fixed in the imagination for centuries. One example is the Flaming Tail Banquet of the Tang Dynasty (618-907), a grand meal that celebrated the ascent to high office. The name evoked the legend of a carp, fighting upstream, that is struck by lightning, set on fire, and turned into a dragon, the dragon symbolizing the emperor, who granted the high office. The feast, an obligation of top-level appointments in that era, was known for its extravagance. One menu (saved by a family, then discovered and annotated by descendants over 200 years later) detailed a Flaming Tail Banquet from the year 709, with 58 dishes ranging from thorn-apple pastry, to brown turtle, whole roasted lamb, grilled partridge, liver cooked with rose petals, and steamed pastry in the shape of oil lamps. Some creations were not meant to be eaten, like the pastries portraying the banquet's entire 70-member musical troupe.

One of the most famous of all was the General's Banquet, held in Hangzhou in November, 1151. This exceptional feast was given for the Emperor by one of his hardest-working and longest-serving generals, on the occasion of the general's sixty-fifth birthday. Luckily, the menu has survived. First, many kinds of fruits were offered, in successive waves, from fresh, to dried fruits with nuts, to sugar-coated. Three groups of appetizers followed with intricately carved and styled vegetables, after which a dozen fruit and flower creations carried the flavor incrementally from sweet to savory. Only then did the real meal begin: 15 entrees, followed by a brief rest, capped off by five more meat and poultry entrees served with streamed bread. At this point, fruit was served again, to signal a rest, and then the finale of the feast arrived: extremely fresh scallops, sea snail, and oysters, served raw or barely and perfectly cooked. "How recklessly the rich waste food!" wrote a courtier of the time. "I remember the general's feast for the emperor—the fifteen courses, and all the dishes that followed." It is unfortunate that no record survives of the alcohol consumed on that night, more than 800 years ago.

Alcohol certainly was one prime stimulant in the city of Hangzhou's longstanding tradition of literary banquets; another was the beauty of West Lake, the gorgeous and tranquil man-made body of water in the city's center. On one level the poetry-themed banquets held on lake barges trace their roots back to Su Dongpo (1037-1101), a poet, statesman, and gastronome associated with the city. A pedestrian causeway he built on part of the lake still has his name (Sū Dī, 蘇堤), and a dish named after him, Dongpo Pork, is one of Hangzhou's most famous specialties, offered in restaurants the world over. A widely circulated story holds that the dish was born when Su started to cook pork, and then became so distracted by a game of chess that he let it stew far longer than he'd intended. True or false, the dish belongs to both the poet and the city, and to this day, after eating it in one of the famous old restaurants, you might emerge to find people writing his famous verses in ephemeral style on the sidewalk, with brushes dipped in water.

One turning point in Hangzhou's literary food trend was the mid-19th century opening of a seal engraving society (a cherished literati art form) right next to an enduring lakeside restaurant, Lóu Wài Lóu (楼外楼), which strove to delight the men of letters who congregated there. Then, as before, though, the ultimate literary banquet was held on a lovely, lantern-glowing boat that glided under the moon, on West Lake. Dishes were served to remind one of great poems and poets, wine flowed, and before long diners were quoting their favorite lines of poetry to each other, and then composing poems themselves. In at least this one form, the historical literary banquet became an exquisitely inspired, food-and-alcohol fueled poetry slam. The verses created were spontaneous, fleeting, much as the lines of poetry written in water on the sidewalk are today.

Government Controls on Banquets and Feasts. After the Chinese Communist Party assumed control of China in 1949, extravagant dining was frowned upon. Almost all private restaurants were closed in the early 1950s, but banquets still went on, whether for officials, or simply in accordance with the holidays normally celebrated at the local level—for example, a village might hold an annual feast for Spring Festival (Chinese lunar new year). Through the 1950s successive restrictions were placed on the numbers and kinds of dishes that could be served at local feasts, to ensure against uneven privilege and its inevitable shadow, corruption. The severe famine of 1959-1961 which followed however, killing over thirty million through starvation, probably rendered such restrictions moot.

Since the transformative "open door" period of the late 1970s/early 1980s, there have been no restrictions on banqueting and feasting by private citizens. But as China privatized, graft and corruption became a huge problem, one that is often manifested around fancy meals—so the government returned to placing intermittent restrictions on banqueting by officials (not private citizens), restrictions which can wax and wane along with anti-corruption campaigns. At this writing, limits are placed on official banquets depending on the government level, and the type of meal. Current rules dictate 100-120 RMB per person if the banquet is at the Ministry level; 80 RMB is the per-person maximum for a regular government banquet. Rare animals (shark's fin, sea cucumber) and cigarettes may not be ordered, and there are restrictions on alcohol. The number of hosts may not exceed one-third of the number of guests. And many forms and signatures are required to stage a bureaucratic/office banquet, even with these restrictions.

Modern Banquets and Feasts. The rebirth of China's economy has brought dining back full force, and private banquets occur every night, all over China, for countless reasons, and to mark any number of occasions. Yet certain types of banquets have come back with real popularity, in trends that spotlight incredible food while also illuminating aspects of the zeitgeist.

Sometimes a well-known regional banquet becomes the signature "dish" of a Province's cuisine, and in today's insatiable food culture, omnivorous gourmets in other big Chinese cities expect to experience it in a restaurant. One such example is the Water Banquet of Luoyang, a stately, complex feast which has become perhaps the single most famous food of Henan Province. The 24-course banquet (which at this writing can also be booked at a restaurant in Beijing) combines 8 cold and 16 hot dishes, half of which are soup, the others emphasizing sauces and gravies. A feature of the Water Banquet is presentation, as in the first course, Peony Soup (seen below; Luoyang is also famous for its peonies). The dishes, which come with stories, are served in an order meant to suggest flowing water.

A revealing contemporary banquet craze is the explosion of interest in Red Mansion cuisine. Hóng Lóu Mèng or 紅樓夢 (lit. Dream of the Red Chamber) is China's most famous classic novel. Written ca. 1760 and still widely read, the novel's portrayal of upper-class family life renders various banquets and all manner of dishes and delicacies in vivid detail. So filled with food is the novel that no less than 40 hónglóu càiyáo, 红楼 菜肴, Red Mansion dishes, have entered the culinary canon—and these are only the dishes based on actual recipes detailed in the book. So many additional delicacies are loosely described that chefs have a great deal to choose from in creating Red Mansions banquets. It is easy to sense the appeal of this feast celebrating a classic novel, especially in a society where both the novel and the food were completely off limits for a whole generation. Now, this greatest of Chinese stories can be explored again—and through food. Big restaurants and hotels periodically bring in guest chefs to stage a one-time Red Mansions banquet, and there always seem to be a few restaurants in Beijing specializing in the food of the novel. But the most amazing version of the Red Mansions banquet is the one currently on offer at Grand View Garden, a former sprawling TV set for a series about the novel, which was turned into a tourist park when filming was completed. At this pseudo-literary Beijing resort, the Grand View Tower Restaurant offers three different kinds of feasts based on the novel, including one for which musicians perform the music from the TV series. These extravaganzas unfold in an environment of waterside pavilions, bridges, streams and courtyards modeled after the home of the Jia family in the novel.

Peacock Drumsticks with chiles and peanuts from the $54,000, one-year Man-Han Feast.

For sheer luxury and excess, however, nothing else in modern times quite touches the fabled Man-Han Feast, or Man Han Quanxi (满汉全席) a three-day imperial feast originally designed to be eaten during six twice-daily banquets. The original Man-Han Feast was given by the Kangxi Emperor in 1720, and included 320 dishes. Unfortunately, official records of the famous event were lost during the Cultural Revolution (1966-1976), and it is unlikely the feast can ever be recreated with full accuracy. That does not stop restaurateurs from trying, however, and so-called Man-Han Feasts are periodically staged for wealthy clients in China's biggest cities, presumably substituting more ethical ingredients for original delicacies such as tiger meat. In 2010, NPR reported on a Man-Han Feast being offered in Beijing that included 268 dishes, not counting appetizers and sweets. This feast was available to be consumed in multiple sittings over a one-year period and cost a staggering $54,000 per diner.

18th CENTURY CLAIMS AS TO THE ORIGINAL MAN-HAN FEAST MENU

Tong Yuejian, the salt merchant who left behind his Classic Cooking manuscript toward the end of the 18th century, also commented at length on the menu of the original Man-Han Feast of 1720, as did a contemporaneous book called The Painted Boats of Yangzhou, which was a discourse on the pleasures of that city. While these accounts were written decades after the feast occurred, and may be no more than hearsay, they do offer an astonishing picture.

The purpose of the feast being promotion of unity between Manchu rulers and Chinese subjects, the menu was designed to join the two cuisines. There was no attempt at fusion. Rather, both cuisines were celebrated in a banquet of five parts, with parts one, two, three and five being Chinese, while part four was Manchurian (a game-oriented cuisine). According to these sources, which at least date from the same century, it unfolded like this:

Part One

Bird's Nest Soup, Sea Cucumber Stewed with Pig Tendons
Razor Clam and Daikon Soup, Pig Tripe and Seaweed Soup
Abalone with Pearl Vegetable (gripeweed, a medicinal herb), Soup of Dried Mussels and Shrimp Roe
Shark's Fin and Crab Soup, Chicken Braised with Mushrooms
(Unidentified) Fish Maw with Ham
Shark skin in chicken juices (created by cooking a young chicken in the broth of an older one); Blood Noodles Soup
Superior Soup

Part Two

Carp Tongues with Bear's Paw
Pig Brain with Orangutan Lips preserved in Wine Lees
Mock Panther, Steamed Fetal Camel Hump
Palm Civet with pear Slices, Steamed Deer Tail, Pheasant Soup
Air-Dried Pork, Air-Dried Lamb, Rabbit Meat
Meat Skewers, Superior Soup

Part Three

Rice Gruel with Chicken Soup and Bamboo Shoots
Pig Brain Soup, Goose Giblet Soup, Hibiscus Eggs (cooked egg white cut in the shape of flower petals, served in chicken juices)
Carp Steamed with Wine Lees, Mock Fish Liver
Dolphin Testicles, Monk's Bean Curd Soup
Soft-shelled turtle soup, Pupa Soup, Superior Soup

Part Four

Roast Suckling Pig, Fried Pork, Fried Lamb
Roast Chicken, Roast Goose, Roast Duck, Pigeon Soup
Assorted Pig and Lamb Offal, Singe-Roasted Pork and Lamb, Boiled Lamb, Steamed Suckling Pig, Steamed Lamb
Steamed Young Chicken, Duck, and Goose
Baked and Filled Buns

Part Five

The purpose of Part Five was to pave the way for more drinking. Toward this end, 20 kinds of refreshments were followed by 20 kinds of hot food, unspecified. Finally, 10 platters of fresh fruit were followed by 10 platters of dried, glazed fruit. One wonders if anyone could walk away.
Bean Jelly Liáng Fĕn 涼粉

Bean Jelly, or 'cold starch-noodle', is a fairly firm, semi-translucent, tofu-like food made from boiling bean starch in water until it thickens, and then cooling and unmolding it. The surprisingly sturdy bean jelly can then be cut into slices, julienned, or planed off into noodle shapes, and forms the basis for many cold dishes, usually involving some combination of soy sauce, vinegar, chile oil, ground pork, green onion, cilantro, sesame, and peanuts. Though bean jelly is firm enough to sauté, its cool mouthfeel and refreshing texture make it most popular as a cold plate, in warm weather. Almost tasteless, it is a pleasing carrier of savory sauces and toppings.

The universal, globally available bean starch is mung bean starch, which is the source of the liáng fĕn served in most of China's restaurants, as well as what is sold in Asian groceries everywhere. Mung bean starch produces a semi-translucent white jelly. But in remote, rural parts of China such as Yunnan, locally grown beans are still used to make bean jelly, with some dramatically varied results.

Yunnan is a province tucked away in China's southwest corner and bordered by Laos, Myanmar, and Tibet. Connecting its main towns like a north-south sine is the ancient Tea and Horse Caravan Trail, used by muleteers continuously for almost 1400 years (618 CE—1950s CE) to ferry trade goods between Kunming and Lhasa. Towns grew up along the Trail, marketplaces thrived, and bean jelly became an enduringly popular dish, one quickly assembled, and thus perfectly suited to sale in market squares and street stalls. The market towns along the Trail had different cultures, different languages—and different bean jellies. To this day, the Bai ethnic group around the town of Dali uses a local bean called wan dòu, which produces a buttercup-yellow jelly so firm it can be planed into long noodles (the town's celebrated "yellow bean noodle"), or even cut into thick bread-like slices, between which the pastes and toppings are sandwiched, before the whole thing is eaten out of hand. To the north, where the Trail passes through the town of Lijiang, the Naxi people use a completely different bean, one they call ji dòu, which results in a mottled gray-green jelly that is usually cut into julienned shapes or slices rather than noodles. These towns along the Tea and Horse Caravan Trail do not just prepare bean jelly differently—each also has its signature heritage bean.

"Yellow bean noodle" for sale at a rural market outside Dali

Condiments for "yellow bean noodle"

Bean jelly is easy to make at home from mung bean starch, and toppings can be tailored to taste. While bean jelly functions like pasta, as a base for sauces and toppings, it is lower in calories and carbohydrates than regular pasta.
Chopsticks Kuàizi 筷子

Chopsticks

The Oxford English Dictionary places the word's first use in the 1699 book Voyages and descriptions by William Dampier: "[T]hey are called by the English seamen Chopsticks".

Archeological excavations in China date the earliest prototypical chopsticks as far back as 5000 BCE, but chopsticks were used to cook and prepare food at first, rather to eat. During the Bronze Age, for example (1600-1046 BCE) food was boiled in cauldrons on tripod feet, a cooking method that works nicely with a pair of long wooden chopsticks. As for eating, the leading implement during China's first few thousand years was a dagger shaped spoon called bĭ, 匕 , used in conjunction with the fingers. It was not until the 4th Century BCE that the majority of Chinese were eating with chopsticks.

It has been often noted that chopsticks are particularly well suited to Chinese cuisine and its bite-sized pieces; indeed, the practice of serving large portions of meat, requiring individual diners to use knives, is unknown in China. Knife work belongs in the kitchen, a belief with roots in Chinese philosophy. As Mencius, disciple of Confucius, said: "So is the superior man affected towards animals, that, having seen them alive, he cannot bear to see them die; having heard their dying cries, he cannot bear to eat their flesh. Therefore, he keeps away from his slaughter-house and cook-room." Chinese cuisine ensures that all dishes are tender and bite-ready, requiring nothing more than a slim pair of sticks to convey them to the mouth.

The word "pair" is key, for chopsticks can only exist in twos; one is useless without the other. This simple fact has made chopsticks a favorite gift and a popular, lucky symbol for lovers, couples, and newlyweds. The utensils figure widely in love stories and folklore. They frequently serve as a prop in wedding ceremonies, in ways that vary widely across China, from the Klau people of Guizhou Province (the groom's mother carries chopsticks wrapped in red paper to the bride's family to propose marriage) to the Daur people of Manchuria (the bride and groom eat a bowl of glutinous rice together, using one pair of chopsticks). In some parts of northwest China, a bride throws a pair of chopsticks on the floor as she leaves her old home, and as soon as she walks into her new one, picks up a new pair of chopsticks. Lucky associations with chopsticks also extend to the spoken word, kuàizi, which sounds similar to the words for speed, happiness, and son—all very propitious.

Shapes and lengths of chopsticks vary across Asia. Chinese chopsticks are about 25 cm long, with squared or rounded sides, and usually end in a blunt tip. The etiquette and manners around using chopsticks also vary between countries, but the main rules in China are:

–do not use chopsticks to dig or mine for food in serving platters, or to impale food.

–do not leave chopsticks standing vertically in food, as this resembles incense sticks in a funerary offering.

–do not use chopsticks to make noise, to gesticulate, or to point at someone.

–it is acceptable to transfer food directly to close relatives or significant others, but it is increasingly the norm, for reasons of hygiene, to use serving utensils (spoons, or serving chopsticks) to convey food from platters to individual plates, whether serving oneself, or another. In fact, a 2006 Hong Kong study found that, following the SARS epidemic, the percentage of people who used separate utensils when serving food from platters climbed from 46% to 65%.

reusable wood chopsticks, bowl and plate

The biggest problem posed by chopsticks is not the occasional lapse in hygiene, but rather the huge and environmentally damaging market in disposable chopsticks. Most of these are consumed in Japan, where throwing away chopsticks after a single use is a powerful, ubiquitous trend that resists reversal. Japan gobbles up 24 billion pairs a year, or 200 pairs per person. While Japan uses disposable chopsticks in all kinds of restaurants, through the rest of Asia, throwaways are a bottom-end utensil, limited to fast food, street stalls, and casual joints. In China, outside of this bottom tier, reusable chopsticks of melamine or wood are the norm.

Japan may be the leading consumer of this wastefulness, but China absolutely feeds the problem, producing about 45 billion pairs of single-use chopsticks every year, the timber equivalent of 25 million mature trees. In 2006, the Chinese government levied a 5% tax on disposable chopsticks, but whether this will actually slow the throwaway-chopstick industry down—or simply increase the Chinese government's tax revenues—remains to be seen.
Fermented Black Beans Dòu Chĭ 豆豉

Fermented black beans are one of the most popular seasonings in Chinese cooking. Not to be confused with the black turtle bean used in Latin American cooking, dòu chĭ is made from soybeans, and has such a powerful, piquant, salty flavor that it is used only in very small amounts to flavor dishes, and never—unlike other fermented soybean products such as Japanese natto—eaten as a food. So strong are fermented black beans that some cooks wash them before using them. They often appear as a leading sauce ingredient for stir-fried dishes, especially those featuring seafood such as clams and shrimp

In the sixth century, Jia Sixie, in his book Essential Skills for Common Folk, set out the medieval process for making fermented black beans in quantity. First, a straw-roofed hut was built in a shady spot in cool weather, and a pit several feet deep dug inside. 500-600L of beans were boiled just until swollen, and had a little give when pressed, then spread outside to cool. The beans were heaped in the pit, and twice a day someone crawled into the hut and checked the temperature of the pile by thrusting his arm all the way into it, to see if the beans were as warm as his armpit. If they were, he turned the pile, then sealed the opening up again to keep out insects and rodents. Soon the beans were covered with white mold, which then turned yellow, and the height of the pile decreased a bit with each turning. When the mold had done its job, the beans were moved outside again and the mold dispersed by fanning, after which the beans were rinsed to remove any remaining mold, and allowed to dry. Now the pit was lined with chaff and clean straw mats, and the beans piled back in, and stamped down, after which more mats and more chaff were pressed on top. After ten to fifteen days, depending on temperatures, the beans were ripe, strong-flavored, and almost black. They would keep for a year. This particular recipe was unsalted, but Jia mentions eating salted black beans (now the standard) as well. Apparently he was also slightly embarrassed about the homely subjects covered in his now 1500-year-old Essential Skills for Common Folk, worrying, "I hope that future readers will not laugh at me."
Food As Medicine

"A doctor must first understand the origin of a patient's sickness to know how to attack it, and treat it with food. If that fails, use medicine."

–Sun Simiao, 7th C

Since antiquity, Chinese have regarded food as not just nourishing, but medicinal. An extensive and complex system of using food to combat illness and maintain health has been in constant use for many centuries—only it has nothing to do with nutrients, vitamins, enzymes, Ph balance, or anything else about food properties understood by Western science. It revolves instead around the flavors of foods, the properties of foods, and how their energies move in the body. The Chinese system, based on long experience and deduction, comprises a philosophy that is its own unified field theory of food and health. In some ways it seems to have anticipated subsequent medical science—for example, many treatments for goiter include seaweed and kelp, natural sources of iodine. In other ways, it does not mesh meaningfully with the medicine of the West: why should broad bean relieve edema, for example, and water chestnut help with diabetes? Perhaps it is possible that micronutrients found in these foods play a compounding role, just as there is a chance that the manner of consuming the food makes a difference. Many prescriptions for using foods in the service of Traditional Chinese Medicine involve creating a broth or decoction according to specific instructions.

The categories below—the flavors of foods, the energies of foods, the movements of foods—do not refer to how food feels or tastes (despite the word "flavor"), but to how it acts inside the body. These classifications measure the effects of foods, as these effects were traditionally understood.

The Five Flavors

Foods were thought to carry five basic flavors: sweet, sour, bitter, salty, and pungent. In some sources, the fifth flavor is called hot (peppery), instead of pungent. The most common flavor by far is sweet, for it includes not only fruits and obviously sweet things, but also fish, grain, and beef. Foods of the sweet flavor (Bamboo shoots, barley, tofu, eggplant) improve digestion. Sour foods (lemon, olive, red bean, litchi and tomato) are good for obstructing movement, and are thought to assist in relieving excessive perspiration, or stopping diarrhea. Bitter foods (hops, apricot seed, grapefruit peel, asparagus) bring down fever and release body fluids. Pungent foods (ginger, green onion, pepper, cinnamon) are believed to improve energy circulation. Salty foods (kelp, seaweed) relieve conditions of hardening, like swollen lymph nodes. These are only a few out of many examples. Countless foods can be classified, and utilized, in this way.

The Five Energies

The energy of a food is its ability to cause one kind of sensation or another in the body—to warm the body, say, or to cool it. The energies refer not to the food, but to its supposed causative power. (Example: tea is "cold"; it cools the body, even when it is drunk hot.) The five energies are hot, cold, warm, cool, and neutral. At its most basic level, the principle is simple: for a "hot" symptom, such as hives, consume a cooling food such as mung bean soup, or sugar. Similarly, if you have an overly warm or overly cool constitution, you can eat to correct it. Cold foods include crab, lettuce, cantaloupe, clams, and bitter gourd; cool ones encompass radish, spinach, and wheat, among many others. Examples of hot foods are pepper, soybean oil, and dried ginger, while "warm" foods like chicken, chestnut, coconut, coffee, fennel, mutton, leek, and star anise raise the temperature a little more gently. Finally, there is a long list of foods with neutral energy, such as oysters, peanuts, cabbage, carp, milk, potato, and yellow soybean. Yet these categories are not set in stone; they are really folkways, and can vary from one sub-group to another. For example, E.N. Andersen and Marja Andersen (1984) found that Cantonese and Malaysian Hokkien Chinese held opposing views about the cooling and warming effects of rice and congee.

Movement of Foods in the Body

Foods are thought to move inwards or outwards in the body; upward or downwards. Foods that move outward help to carry what is inside out, so these foods help someone to break a sweat and reduce a fever. Outward-moving foods are good for the body in summer, and they tend to be pungent or sweet. Green pepper, black pepper, and soybean oil are examples. Foods that push inward help reduce abdominal swelling, and thus move bowels. They are winter foods, with cold energy, like bitter gourd and clams. Foods with upward movement belong to spring; they tend to pull energy from the lower half of the body toward the top, so they are useful in conditions of prolapse. Upwards foods are pungent or sweet, with a hot energy (egg yolk, kohlrabi, kidney beans, apricot, beef, black fungus, fig, grape, and licorice.) Downwards foods relieve hiccups and vomiting, and are associated with autumn, as well as with cool, cold, or warm energies. Button mushrooms, apples, and egg whites are downward-moving examples.

Individual Constitution

Chinese dietary tradition recognizes six constitutional types: hot, cold, dry, damp, deficient, and excessive. Determining one's constitutional type is at least partly intuitive: persons who tend to feel overheated and thirsty, and have flushed complexions, are likely to run hot. People with deficient constitutions tend to be weak and low-energy, while those with excessive constitutions display high energy and speak in loud high-pitched voices. Then there is the question of whether one is dry or damp. Most people, moreover, are not one pure constitutional type, but a combination of several aspects. In assessing a patient's constitution with a view toward making dietary recommendations, a doctor of Traditional Chinese Medicine would consider many factors, including the tongue, the pulses (TCM takes twelve pulses), urine, stool, sleep patterns, symptoms, etc. The correlation of this assessment with the many possible ways of combining the flavors, energies, and movements of foods is complex, and a reminder that Chinese medicinal foodways are as much an art as a system.
Fusion

Fusion in Chinese cuisine is the practice of combining disparate aspects of two provincial cuisines, or of Chinese cuisine and any foreign cuisine, to create a new Chinese dish. While overseas Chinese have opened restaurants the world over in the last 100 years, and have incorporated local ingredients and flavors everywhere as they adapted their own Chinese cuisine to new audiences, within China itself, fusion means combining disparate elements to create a new dish for Chinese diners. Defined this way, fusion did not even begin to creep into Chinese cuisine until the end of the twentieth century, for the idea of fusion is contrary to the way Chinese chefs have long thought about food. Chinese culinary tradition has always sought the perfection of a dish, not its reinvention; the purest provincial cuisine, not a new combination. In the past, fusion has not been a natural fit with Chinese cuisine.

One historical illustration of this is the restaurant scene in Taipei in the 1950s. When the Nationalists fled the mainland in 1949 to establish their outpost in Taiwan, they brought generals representing every province… and those generals brought their chefs. Chinese provincial armies of the era always traveled with their chefs. Once settled, these top chefs opened their own provincial restaurants in downtown Taipei, often quite near each other. Each represented the pinnacle of his province's cuisine. Henry Chang, a chef who trained in Taipei starting at age seven, has said of these chefs, "They were like Gods to us." And yet, as Chang noted, they never mixed or traded or borrowed; each chef concentrated on the perfection of his regional style.

It has long been typical throughout the Chinese culinary world for provincial styles to be offered separately, either in different restaurants or in different sections on a menu. Over time, Chinese cooking has also absorbed surprisingly little influence from foreign cuisines. This strictness of continuity places Chinese cuisine in the middle of longstanding Chinese aesthetic tradition, which throughout history has prized perfection over innovation, mastery over genius. Chinese art history is not a series of aesthetic revolts, as is the case with Western art; rather, great Chinese art forms, including food, have grown over centuries through accretion, progressive refinement, and evolving concepts of perfection. When the highest goal was mastery within great traditions, an artist, or a chef, did not try to do something new. For all these reasons, fusion has been slow to show up in China.

Beef short ribs in wasabi sauce

Modern demographic changes, however, have forced increased blending and borrowing between China's provincial cuisines. In 1938, for example, General Chiang Kai-shek, a Cantonese, moved his army into Yunnan Province to build the Burma Road in cooperation with British and American forces. Naturally his army's Cantonese chefs came too. These chefs introduced steaming techniques from Cantonese cuisine, a lasting contribution to the cooking of Yunnan.

A much more recent example was the migrant workers who brought provincial cuisines with them when they followed the construction boom of China's modernization, beginning in the 1980s; they comprised the first big surge of the floating population, or líudòng rénkŏu (流动人口). First came the Uighurs of Xinjiang, who fanned out to run a black market in currency during the two-currency era (RMB and FEC), 1980-1994. Their numbers were far surpassed in the early 90s by the massive population of rural men, especially Hunanese, who moved to urban areas to work in construction. First, street stalls sprang up to serve the new arrivals, and soon the Uighur kabobs, or the spicy Hunanese fare, attracted locals as well as migrants. Then, Uighur and Hunanese restaurants began to open. Finally, the previously less-familiar ingredients and spices popped up in the city's home kitchens. By then, home cooks were adapting provincial dishes to their tastes, and so were restaurants: a Hunanese dish in Beijing may be adjusted to suit the palate of the Beijing diner. Now, the Chinese economy currently supports an extraordinarily avid dining culture, especially among urban dwellers, who expect many provincial cuisines to be not only available, but, in some cases, tailored to local tastes. In this way, through restaurant chefs and home cooks alike, intra-provincial fusion is growing as the population gains a broader taste for the nation's highly varied cooking traditions.

Fusion between Chinese and foreign cuisines has been slower to catch on. In the 1990s oddities such as foie gras dumplings appeared, first in foreign-owned restaurants; now more sophisticated offerings can be found even in serious Chinese restaurants. One example is the beef short ribs in wasabi sauce served at a Shanghai dim sum house, which combines a distinctly Japanese flavor with a classic Chinese recipe. At present, international fusion dishes can be found primarily in highly cosmopolitan cities like Shanghai and Beijing.
Hasma Xŭe Há 雪蛤

Almond hasma puff in a Shanghai dim sum restaurant.

Hasma (Xŭe Há 雪蛤) is the fatty tissue surrounding the fallopian tubes of the Asiatic grass frog. It is dried for transport and sale, then reconstituted for use in desserts by boiling in water with rock sugar. In its dried state, hasma is whitish in color, which may, along with the fact that it is harvested in China's frigid far northeast, be the source of its Chinese name (lit. 'snow clam'). When reconstituted, hasma is light, chewy, and glutinous; in sweet dessert soups, it is paired with longan, red dates, and lotus seeds, among other delicacies. "Three snow soup" combines hasma with Asian pear (or snow pear) and snow fungus. On the dim sum menu, small pieces of hasma can be found suspended in the creamy, vanilla-tinged filling of the Hasma Puff pastry.. In all cases, the hasma itself carries little taste, its faint, savory marine flavor usually disappearing into the dish. Hasma is appreciated instead for its texture—pleasingly glutinous, with a tapioca bounce—and its thickening qualities, which help bring a rich, silky mouth-feel to the dessert soups in which it most often appears. But the real key to hasma's appeal may be the simple fact that is an exotic ingredient from a remote location, which many diners believe will bring them health benefits. The two qualities are often conflated; rarity equals efficacy. Chinese cuisine is full of unusual ingredients like this, consumed in large part because they are believed to slow aging, restore health, and avoid disease. In the case of hasma, it is cited as a respiratory tonic, but this has not been supported by research. More predictably, hasma is also claimed to improve female fertility, since it is tissue from the frog's reproductive system, and in addition, to benefit the complexion, probably due to its elastic texture. Similar claims are made for pigs' feet, on account of their collagen; China's medicinal foodways often dictate that one should eat from the animal exactly what one wishes to strengthen in oneself. Medicinal qualities aside, hasma does add a satisfying note of luxury to dishes in which it appears, since it comes from so far away, and so much labor is required to bring it to the table. Dried hasma can be found for sale in Asian markets under the English name "Snow Jelly".
Iron Rice Bowl Tiě Fàn Wǎn  铁饭碗

The idiom "iron rice bowl" refers to the guarantee of lifelong employment which was extended to all China's workers by the Communist Party in the second half of the 20th Century. After business, industry, and institutions were nationalized and re-fashioned as State-Owned Enterprises, each working adult was placed in a work unit called a dān wèi, 单位 (lit. one's place, one's seat). The dān wèi was all-powerful during the tightly controlled decades of 1950-1980, deciding whether and when a person could marry, have a child, enter the military or a university, or apply to join the Party. No one could travel or be allocated housing without the dān wèi's permission. Perhaps even more critical, rations for grain and edible oil, the main sources of calories, were controlled by the work unit. At its heart, the dān wèi system was a promise that basic food would always be guaranteed—hence the phrase, the iron rice bowl. It was iron, not porcelain; nothing could break it.

The system had certain advantages for the worker. It was extremely stable; unless you seriously transgressed, or quit, the job was yours forever, and you didn't have to work too hard, either. In fact, your performance was hardly judged; it was your political ideas that were scrutinized. You had benefits, like subsidized housing, and health care. You retired with a pension in late middle age. But there were negatives, too—good performance would not necessarily bring advancement or increases in pay, and movement was difficult; social stratification (albeit in a new form) was worsened. Even more serious, the dān wèi wielded enormous control over workers' personal lives, essentially functioning as the state's agent in social engineering, its decisions driven more by local heavyweights than by the rule of law. The "iron rice bowl" was a system that gave everyone lifelong job and food security, but at a high price.

"Smashing the iron rice bowl" has been a long process of closing down state-owned enterprises, laying off millions of workers, and letting many businesses and industries shift back to the private sector. For many workers, especially younger ones, the transition is not an unhappy one. It is spoken of as xìa hăi, 下 海, to jump into the ocean (of private enterprise). Yet an interesting, if modest, counter-trend has begun to emerge in the last few years, one of growing nostalgia for the decades of the dān wèi, wit its lifetime employment. In 2013, 1.5 million applicants hoping to return to bureaucracy registered to take entrance examinations for the civil service, a 15% jump over the prior year. The "iron rice bowl" still has its allure.
Moon Cakes Yuè Bĭng 月饼

One of the pleasures of eating in China is the culinary calendar. Special foods are eaten on certain occasions. In general, festival-day foods are small sweets, which are economical, easy to give and receive, and can be made distinctive to the occasion (and also to the town, and even imprinted with the name of the bakery). The fact that sweets play such a minor part in Chinese cuisine overall makes it even more sensible for sweet treats to dominate the festive-day special foods. The most popular and widely known of these is the moon cake, consumed during the Mid-Autumn Festival, a full-moon celebration that occurs on the 15th day of the 8th lunar month. The moon cake that is best known all over the world, with is brown glossy crust and its filling of pureed bean or lotus seed paste (often studded with salted duck egg yolks) is the Cantonese style moon cake, but there are many variations. Suzhou-style moon cakes, a version going back 1,000 years, have flaky dough and exceptionally sweet fillings. In Yunnan, one of the local mooncakes has a buckwheat dough casing. In Chaoshan, a flaky dough is favored, but so is the lard that is present in all mooncakes, for there, the lard aroma is retained in the final pastry. Taiwanese moon cakes lean toward mung bean paste fillings, and they often put mochi in the center—one of several Japanese-favored foods that were adopted and retained in Taiwan after the occupation of the Second World War (another is mayonnaise). These are a few of the many types of traditional moon cakes.

Contemporary moon cakes, meanwhile, have gone wild. To have some fun, and drive up sales, chefs first toyed with the fillings, adding taro, pineapple, and durian. It was a short step from there, to yam, chicken floss, ham, chocolate, and coffee. Then bakeries started changing the heavy, lardy nature of the moon cake, producing versions made of jelly, of yogurt, and the "snow skin moon cake", which must be kept frozen and resembles a mochi ice cream ball.

Moon cakes today are consumed throughout Asia, and are different everywhere. Malaysia, Vietnam, Indonesia, Japan, Singapore, The Phillippines, and Thailand all have distinctive local moon cakes, with significant variations in style and filling.

Stories and legends are often told in connection with moon cakes, but there is general agreement that the holiday and the cake have their ultimate roots in Chang E, China's moon goddess, who is associated with immortality. China's ancient Book of Rites (禮記) specifies sacrifices to be made by the emperor, including to the moon, in autumn. The full moon of the eighth lunar month was not codified as the Mid-Autumn Festival, however, until the Song Dynasty (960-1279).

Although the holiday was part of the calendar before the Yuan (Mongol) Dynasty (1279-1368) even began, a legend has long clung to the cakes which concerns the overthrow of the Yuan (Mongol) Dynasty by the subsequent Ming (Han Chinese) Dynasty in 1368. Supposedly the peasant uprising that led to the overthrow of the Yuan and the launch of the Ming (a glorified era) was facilitated by messages smuggled via innocent moon cakes. Some versions of the story involve slips of paper with instructions for the revolt concealed in the filling. Other, even more charming, versions claim that the secret messages were encoded in multiple characters imprinted on top of the cakes as they were placed in gift boxes, in scrambled positions. The message would not have been coherent, or would have cleverly seemed to mean something else, until the cakes were repositioned in a different order.

Whether there is any truth to this may never be known, but the moon cake industry today is almost entirely organized around gift boxes—lavishly decorated, each cake inside safe in its own nest, sealed in its own plastic wrapper. The gleaming red boxes are piled up near the entrance of every Asian grocery in September and October. They are labeled so you can choose the fillings you like (lotus seed, red bean, nuts and seeds, the list goes on) and those you don't (salted egg yolk?). But these are gift boxes, and therein lies the modern irony of the moon cake. While many boxes are consumed with relish, many others are gifted, re-gifted, and gifted again, all the way to their expiry date, as social graces are expressed and received with great warmth and sincerity, around a delicious but heavy pastry not everybody wants to eat.
Poaching Chicken

Few things are harder to cook well than chicken, which is ironic, given that it is far and away the most popular entrée protein for the home cook, at least in the United States. But as every cook knows, chicken resists perfect texture. By the time the dark meat is cooked through, the breast is usually tough and fibrous to the bite.

Cantonese chefs long ago perfected a method for poaching a chicken so that the whole bird is just-cooked and delectably tender. Though this procedure is simplicity itself, it is all about timing and ratio, and may require a few trial runs when first attempted. Once grasped however, it is a foolproof method for producing soft, toothsome, tender chicken.

The principles underlying Cantonese poaching are these:

Poach, don't boil. Always keep the water temperature below boiling after the initial plunge.

Use the correct ratio of water to chicken. (This is the part that calls for a trial run before six people arrive for dinner.)

Seal the skin to hold in juices. (Done twice, by plunging a cold chicken into boiling water, and then again by oiling the cooked bird before chilling it.)

Control flavor. This step, which Western cooks usually skip, involves suppressing the faint, rank undertone in chicken's natural flavor. Ginger and spring onion are the secret weapons.

This poached chicken stars in a widely popular Cantonese appetizer: a whole chicken is poached, cut up, and served cold, with a dipping sauce.

Clean the chicken, removing giblets and liver, but leave whole.
Bring a kettle of water to a full boil. For a 4-lb chicken, use about 16 C of water. Add salt, 2 spring onions cut into quarters, and 3 generous slices of ginger, cut up.
Plunge the chicken into the water, breast side down. The water should cover the bird, plus a little. In case it doesn't, have some boiling water nearby you can use to top up.
Bring the kettle back to a rolling boil. Boil for 5 minutes.
Cover tightly, remove from heat, and allow to cool. (Food safety guidelines would advise against letting it come fully to room temperature as the traditional method dictates. Go to step 6 when you can rest your hand comfortably against the side of the pot.)
Remove the chicken, drain it, rub it with oil, and chill it. Cut up, assemble on platter, and serve with dipping sauce.

Note that many modern Chinese chefs use powdered chicken bouillon to spike up the flavor in a broth like this. Some more traditional Chinese sources suggest poaching the water in chicken stock, or in half stock and half water. But even an all-water poach produces a flavorful bird.

Ginger-Scallion Dipping Sauce

2 T minced fresh ginger
2 T minced scallions
1 t salt
2.5 T neutral oil such as peanut
In small pan, bring oil almost to the point of a smoking, and pour it slowly over the combined ingredients
Pork Zhūròu 猪肉

Pork – the meat from domesticated pigs — is Chinese cuisine's ubiquitous signature meat, the form of animal protein most widely consumed in China since ancient times. So basic is pork to Chinese food that it is the default meaning of the word 'meat' (ròu, 肉), when nothing else is specified. Beef is cow meat (níu ròu, 牛肉); mutton is sheep meat (yáng ròu, 羊肉), but 'meat' (ròu, 肉), always means pork when used by itself. The ideograph for home and family, jīa (家), even depicts a pig beneath a roof. No other flesh food approaches pork's central place in the language of food—or on the Chinese table. China's more than 21 million Muslims do eschew pork, in accordance with their faith, and have developed a sub-cuisine emphasizing lamb and beef for their 1.6% of the population (see Chinese Islamic Cuisine)—but among the Han Chinese majority, pork is number one.

Pigs were domesticated as a food source in China as early as 5,000 BCE; excavations of the Yangshao culture in North China, reaching back to that era, pinpoint pork as a principal source of meat. Cattle, sheep, and goats are not thought to have been widely domesticated until the time of the Lungshan culture, 2-3,000 years later, and, according to some interpretations of oracle bone inscriptions, were bred for ritual purposes at first, not as a protein source. Pork was always food.

Through the millennia that followed, pork remained the prime source of animal protein, followed by aquatic life in areas near water, and fowl everyplace else. Pigs are efficient converters of feed into protein, can be raised on the marginal land ringing a farm or household, and provide high-grade fertilizer via manure. Indeed, pigs, fowl, and fish grown in ponds comprise a sort of farm archetype that has endured throughout Chinese history.

Pork's central position in Chinese food has led to millennia of pork preservation techniques, which permit meat to be kept for long period without refrigeration. A Song Dynasty cookbook attributed to one Madame Wu directs the reader to pound slices of freshly roasted pork, blanch them in boiling water, then dry them off and pack with salt, vinegar, oil, pepper and cardamom. Today, traditional pork preservation techniques are still used, and vary from province to province. In Yunnan, hams are salted and hung. In Fujian, pork is dried with spices, sugar, sugar, soy sauce, and salt. The Hunanese smoke pork, creating là ròu, 臘肉, a bacon-flavored ingredient. The technique of the Tibetans is especially impressive; they gut and debone the animal, stuff its cavities with dried chiles and salt, and then dry the pig flat, turning it into a thick, hard tabletop. The salty flavor is super-concentrated, and one dried pig can last a household a half year or more. Throughout China, every part of the pig is eaten or used; nothing is wasted.

Pork may have always been the most common meat, yet through most of China's history, it remained something of a luxury. A Qing Dynasty laborer earned 100 cash a day in the late eighteenth century; a pound of pork was 50. A chicken was 100. A goose was 500. A pound of rice was 24. In the early modern period (1911-1949), pork was still a food of privilege; Chinese farmers, who did (and still do) comprise most of the population, received only 1% of their energy from meat in that era. By the late 1970s, when China re-opened its doors to the West after three decades of isolation—and a major famine in which 31,000,000 starved to death—that percentage had barely improved, with the average Chinese eating only 8 KG of pork a year.

Now, that per capita consumption level has skyrocketed to 39 KG per year, and half of the more than 100 million tons of pork eaten worldwide every year are consumed in China. When the economy roared back, the food industry privatized immediately. Restaurants bloomed. Even before people could buy cell phones, and then later cars and apartments, they could eat more pork, and they did. In fact, in recent decades, the ratio of fàn, 飯 (staple food, grain food) to cài, 菜 (flavored food such as vegetables and meat to eat with the fàn, 飯) has gradually reversed. In the 70s, most calories came from fàn, 飯. Indeed, the grain ticket, the last ration coupon, the one that guaranteed a basic measure of staple food to all, endured until 1991. When it was finally abolished, many old folks felt nervous about losing their coupon for fàn, 飯, but by then the ratio had shifted, and everyone was eating more cài, 菜, including pork. Indeed, pork is now such a critical component of China's Consumer Price Index that serious price fluctuations can affect the economy. The Chinese government subsidizes pork production, spending $47 per pig in 2012.

Pork production in China today is big agribusiness. The pig's role as the natural recycler of the small farm (food waste>protein>manure for crops) is finished. Now, instead of inedible food scraps, swine are raised on imported corn and soy, needing so much that China is on track to be consuming half of the world's cereal crops by the 2020s. Large scale pig farming is also a strain on the environment, in terms of both greenhouse gases (the animals are epic producers), and overuse of antibiotics (inbreeding has lowered disease resistance). Pork is now plentiful, but it comes with a price.

Nevertheless, Chinese culinary tradition has long treated pork as a costly ingredient, one to be added in modest quantity to many dishes, generally in combination with vegetables. It is less common for pork to be served on its own, as a feature protein dish. There are exceptions to this, of course, from the long-braised pork knuckle of Shanghai, to the barbecued spareribs of Wuhan, to Chairman Mao's favorite "red-cooked pork," to the Cantonese suckling pig—still, pork rarely stars as the big, impressive protein platter that climaxes a traditional Chinese banquet. More often, that honor goes to a whole fish or duck.

Do not imagine that pork is treated lightly. Chinese gastronomic principles dictate that pork should be prepared so that its delicate, natural, "straw-mat" flavor is presented in a clear, clean frame. Pork should be light and tender, fragrant and sweet. Ginger, spring onion, black pepper, and Sichuan pepper are examples of ingredients used with pork to restrain rank flavors and render it sweet. Cornstarch or tapioca starch is used to bind seasonings to the meat. Slicing the meat with the grain reduces shrinkage. These are some of the techniques behind creating a clean, natural pork flavor.

Even more specialized attention is given to the preparation of solid pork fat, adored by Chinese gourmets. When properly prepared, pork fat is as smooth as custard, with a taste as clean and sweet as farm-fresh butter. Yet this "natural" flavor is also the product of careful labor. The meat and fat must be rubbed with salt to pull out juices, blanched to remove scum, stewed at a low temperature, and then steamed for hours, to clarify the flavor and tenderize the fat. Serious Chinese diners moan and cry out in happiness when such a dish is borne to the table. The perfection of solid fat is its own gustatory experience.

Whether fatty or lean, pork holds its place at the common table and the refined gourmet banquet. Sometimes the two extremes meet, as in a foodie trend that celebrates simplicity for decades on end. This famously happened in the eighteenth century, when Chinese gourmets declared that the highest possible incarnation of food was actually the simple and the rustic—which leads one straight back to pork. As the iconic food writer Yuan Mei (1715-1797) put it, "I always say that chicken, pork, fish and duck are the original geniuses of the board, each with a flavor of its own, each with its distinctive style; whereas sea-slug and swallows-nest (despite their costliness) are commonplace fellows, with no character – in fact, mere hangers-on."
Private Home Cuisine Sī Fáng Cài  房菜

Sī Fáng Cài (lit. private house dishes) is a culinary tradition rooted in the home kitchen, which is where the cuisine actually evolved over thousands of years. Yet it is not the common, everyday food implied by the English phrase "home cooking"—rather, Sī Fáng Cài connotes the exceptional, high-end fare produced in households devoted to serious cuisine, sometimes over generations. Chinese history is full of gentlemen gastronomes, lettered men of means who adored food, wrote about food, kept the best chefs they could find in their kitchens, and hosted lavish banquets. Though the actual food was usually prepared by their chefs (or their wives!), these great gourmets were powerful agents of culinary culture; they insisted on excellence in food, immortalized it in their writing, and sometimes, like Yuan Mei, even left behind cookbooks. Thus the association of exceptional cuisine with a particular household name was a longstanding pattern in the foodie landscape.

The most famous 20th Century "dynasty" in private family cuisine is that of the Tan family.Originally from Guangdong Province, raised on Cantonese cuisine, patriarch Tan Zongjun scored a high mark in the imperial examinations at age 27, in the Qing Dynasty's fin de siècle twilight, landing a plum position in Beijing. He threw himself into the foodie high life, hosting, procuring expensive ingredients, and astonishing his dinner guests with masterful creations. Apparently it was his wife, Madame Tan, who was the genius in the kitchen, and her cooking earned their initial fame. But Tan Zongjun made enemies, and ultimately had to retire early, returning home to Guangdong. Years later, in the final days of the Forbidden City, his son Tan Zhuanqing returned to Beijing and cooked for the imperial family, making his name as a great chef. Because of his time in the palace kitchens, Tan family cuisine is considered guānfŭ cài, 官府, officials' cuisine, as well as private home cuisine. Retaining a basic affiliation to Cantonese food, Tan family cuisine brought in influences from Shandong Province (an important root of Beijing cuisine) and Huaiyang cooking (a popular and highly cultivated sub-style of Jiangsu Province). The fall of the Dynasty in 1911 put the younger Tan out of the Forbidden City, but he took a civil service post, and spent the next decades in Beijing becoming even more famous than his father, sparing no expense to orchestrate incredible food experiences for himself and his friends. His name became synonymous with high-end gastronomy in Beijing.

Beset by financial problems in the 1930s, the Tan family opened a restaurant in their home, which became quite successful. They only accepted reservations from friends, or friends of friends, and since everyone knew of Tan Zhuanqing's obsession with delicacies, they were mobbed. The restaurant would keep going, in their home, until most of China's private restaurants were shut down in the 1950s. The Tan family's success illuminates the modern form of Private Home Cuisine, still with us today: the Private Home Restaurant.

Guoyao Xiaoju, one of Beijing's leading interpreters of Tan Private Family Cuisine

Peng Changhai learned to cook as a menial underling in the Tans' private home restaurant. After mastering 200 of the Tan family recipes, he took over from Tan Zhuanqing's third wife, and was recognized as a great chef in the Tan tradition. By the time he came of age though, individual enterprise was no longer permitted, and having his own private home restaurant was impossible. In 1958, a solution appeared: Premier Zhou Enlai, who worked to preserve traditional arts and architecture, arranged for Peng to join the staff at the Beijing Hotel, on the grounds that a chef of his caliber was needed to prepare banquets for guests of state. Though certainly not open to the public in that era, Peng's kitchen in the Beijing Hotel was said to have offered some of the most exquisite food then available in China. Moreover, because he had chefs working under him, and was himself an heir to Tan Zhuanqing's cuisine, Peng's stint at the Beijing Hotel ensured that the Tan cooking tradition was never interrupted. The Tans' was one private home cuisine that survived the cultural upheavals of China's mid-20th Century intact, and is still offered today in specialty restaurants in Beijing.

In the 1980s and 90s, one of China's most famous private home cuisines was that of Beijing's Li family. Descended from a food-crazy patriarch who had retired in 1909 as Commander of the Imperial Palace Guard, the family collected and cherished recipes he had memorized while watching over the Forbidden City kitchens. When their trove of recipes was destroyed in the Cultural Revolution, they sat down together and recreated them. Finally, in the 1980s, after one of the daughters won a national cooking competition, they opened a private home restaurant, in which they combined remarkable food with the cachet of a resurrected imperial menu. A dinner seat in their house became the hottest ticket in town, and was booked out weeks in advance—much like the Tan family operation of the 1930s.

Now that China is once again a vast sea of individual enterprise, anyone can open a restaurant serving private home cuisine, and these have appeared in the big cities. While it may take a little research to separate the real finds among private family cuisines from the inevitable wannabes, these restaurants can be infinitely worth checking out. Aside from the interest of eating in a small, intimate space—maybe even a private home—the food at private family cuisine restaurants is often far superior to standard restaurant fare.
RÈNÀO 热闹

Rènào (lit. hot and noisy): crowded, warm, brightly lit, loud with happy voices. This is the everyday restaurant atmosphere beloved in China, the feeling people hope to find when they go out to eat. A good restaurant should attract many people, and be filled with the clamor of their conversation, the clatter of dishes, and the officious cries of waiters hurrying back and forth. The place should seem exciting, full of avid expectation, and so sought-after that one feels lucky to have gotten in. In the West, high-end restaurants favor softly lit, intimate settings, but these have historically had little appeal in China. While most higher-end restaurants have private rooms, these rooms are almost always set up with a table suitable for a group, not a tête-à-tête.

Lighting is a particular issue. Given the attention to detail and nuance in Chinese cuisine, and especially its playful use of artifice and presentation, Chinese diners want to see what they are eating. There is a widespread feeling that the diner's visual appreciation of a dish should not be compromised to create a soft, suggestive atmosphere that is of little interest anyway.

Restaurants with the "romantic" atmosphere of the West can be found in China now, but only in the big cities, in restaurants experimenting with Western dining styles. Fine dining in China is usually not loud—but it is well lit.
The Gourmet Mĕishí Jiā   美食家

While appreciative diners are a necessary part of every cuisine, the role played by the gourmet in China is somewhat different. At its most rarefied levels, Chinese cuisine does more than demonstrate mastery of technique and transformation; it connects food to deeper resonance. It does not matter whether that resonance refers to the personal (like a wedding or birthday), or the intellectual (like art, nature, or philosophy)—neither can be communicated to unaware diners. Some subtlety and discernment are required. This is why great gastronomes dominate Chinese history as much as great chefs (along with the fact that they are the ones who left behind the food writing). The chef needs a gourmet. Creation and appreciation are joined. Of Chinese culinary art, it can be said that it must walk on two legs (两条 腿走路, liăng tiáo tŭi zŏu lù).

In modern times the critical chef-gourmet symbiosis has determined where the top Chinese restaurants prefer to cluster overseas, outside of China—almost always in Chinese communities. In the early 21st century, the best Chinese chefs in the United States are working in the San Gabriel Valley, not Los Angeles; in Flushing, not Manhattan. They need cognizant diners. No matter where they are in the world, the best Chinese chefs can usually be found cooking for a Chinese audience.

One of Chinese literature's most charming commentaries on this subject is Yuan Mei's record of his exchange with his cook. "I once asked him why, when he could easily have got a job in some affluent household, he had preferred to stay all these years with me in the Sui Garden. He said, 'So much imagination and hard thinking go into the making of every dish that one may well say I serve up along with it my whole mind and heart. (Others) may say what a wonderful cook I am, but in the service of such people my art can only decline… You, on the contrary, continually criticize me, abuse me, fly into a rage with me, but on every such occasion make me aware of some real defect; so that I would a thousand times rather listen to your bitter admonitions than to the sweetest praise. Say no more! I mean to stay on here."

For men of means and education such as Yuan Mei, serious appreciation of food was more than an interest, it was de rigueur—part of being cultivated and refined. Indeed, the historian F.C. Chang has said that "perhaps one of the most important qualifications of being a Chinese gentleman was his knowledge and skill pertaining to food and drink."

For his part, Yuan Mei summed up the rigorous role of the gourmet in his immortal quip: "Before dinner arrives, send down word that tomorrow, the food must be better."
Transformation and Artifice

The Nature of Chinese Cuisine

With its irresistible treatment of crisp-tender vegetables, emphasis on flash-cooking, and characteristically light hand with meats, Chinese is a notably healthy cuisine. At the same time, it is anything but natural. The art of cooking is more transformative in China than elsewhere: one tries not so much to capture the unadulterated real flavor of a primary ingredient, as to craft a more powerful, more evocative version of that flavor, to wrestle a new texture out of an ingredient, rather than preserve its original one. Chinese chefs go to considerable lengths to correct flaws in ingredients, not just celebrate their strengths. Everything is concocted.

The pleasure of cooking and eating is different, on account of this ingenuity, whether one is chef or diner. This is true whether the dish is an all-out feat of artifice, such as the vegetarian 'duck', or a simple stir-fry of seasonal vegetables. With a few exceptions (like Shanghai hairy crab, simply boiled), Chinese cuisine does not set out to showcase an ingredient's original nature; rather, food is almost always thoughtfully, deliberately transformed into a more interesting and appetizing incarnation of itself.

After thousands of years of development, this transformative approach to food has evolved into systems for manipulating flavor and texture that are intuitively understood by accomplished Chinese cooks. Ideals of excellence light the way; tried-and-true techniques and methods make the reincarnation possible. Carried to its playful extreme, this philosophy of cooking and eating has produced a fascinating sub-school of artifice dishes, mock dishes in which one sort of food masquerades as another, a tradition that encompasses everything from temple cuisine, with its mock meats and fish, to the outrageously fanciful banquet creations meant to please the mind as much as the palate. Imagine a whole, fragrant roast chicken brought to the table, only the chef has removed the skin of a chicken intact, and stuffed it the whole skin with everything but chicken before roasting it. The non-chicken is cut into wedges to be served. A new, almost intellectual level of enjoyment has been added to the meal.

Related transformative traditions in Chinese cuisine include the mosaic arrangement of cold meats and vegetables on a platter to convey a theme or narrative, and using carved vegetables as part of presentation.

Benchmarks of Excellence: Flavor

Chinese cuisine seeks to blend flavors in pursuit of a created taste, rather than to simply accent an existing one. Each flavor profile defined below represents the ideal of its type. Its attainment is often the result of much tinkering, and occasions considerable praise from discerning diners.

Xiān, 鲜, the fresh, natural flavor, like fresh fish or prawns, young bamboo shoots, perfect clear chicken broth. Xiān can be boosted by the addition of specific ingredients, usually sugar, less often brown bean sauce and oyster sauce. Xiān can also be made to shine a bit brighter by controlling rank flavors in meat and chicken (wine, pepper), and by suppressing fishiness in seafood (sesame oil). Among techniques, steaming is one way to retain the xiān in seafood, poultry, and vegetables. Xiān is usually concocted, but must appear effortless. Anything added to create it should be undetectable.

Xiāng, 香, fragrant. A whole class of flavors delivers pleasure to the diner through simultaneous taste and aroma. Roasted meat, sautéed mushrooms, fried onions, and perfectly prepared pork are xiāng. True xiāng must arise naturally, since the aroma comes from the ingredient, but shortcuts include sesame oil (added lightly at the end of cooking), seasoning mixes like five-spice powder (wŭ xiāng, 五香, lit. five fragrances), and toppings such as green onion and cilantro—the latter aptly named xiāngcài, 香菜, fragrant vegetable.

Nóng, 浓, the strong, rich, concentrated flavor. Nóng is always created or concocted, and does not even try to appear natural; rich, heady meat essences and strong seasonings are anything but discreet. The complex, anise-scented beef broth that cradles hand-pulled Lanzhou noodles is a typical nóng flavor. But unlike xiān, which is always positive, nóng can be critical, as of smelly Western cheese, or of overripe chao ma doufu (fermented mung bean curd, a delightful but tricky specialty of Beijing). A big, complex broth made from multiple meats and many blended flavors nails the classic notion of nóng.

Yóu ér bu nì, 油而不膩, to taste of fat without seeming oily or greasy. Ripe avocado, farm-fresh sweet butter, fish roe, and perfect pork belly exemplify yóu ér bu nì, but it is not a quality Westerners are accustomed to idealizing on its own. Chinese cuisine includes many dishes that celebrate the perfection of solid fat, while Western cuisine, with a few exceptions like Italian lardo (which is cured fat, not fresh) does not. The appreciation of solid fat, and its traditional importance in Chinese food, may rest partly on the fact that central heating was not widespread in China until the mid to late twentieth century.

Benchmarks of Excellence: Texture

Chinese ideals of texture are all about transformation. They do not describe any natural state, but rather successful acts of alchemy—for example, making hard, inedible ingredients succulent and toothsome. This may have been one of the earliest motivations to manipulate texture—since food preservation was a necessity, chefs had to become adept at deliciously reconstituting all manner of hard, dried provisions, from meat, to vegetables, to every kind of seafood.

In time, the manipulation of texture became an end in itself, playful and creative. Now, some of the cuisine's classic dishes are tours-de-force of texture, especially sea cucumber, jellyfish, bird's nest, tree fungus, fish maw, and shark's fin. These are only a few of China's texture-foods, but the most popular, showcasing as they do the ability to create the resilient and crunchy (tree fungus, bird's nest), the crisp and elastic (jellyfish), the smooth and rich (sea cucumber), the smooth and buoyant (shark's fin; also hasma), and the soft and spongy (fish maw; also bamboo pith). The accompanying flavors are rarely fussy. Feats of texture tend to be served in a subtly flavored soup, or paired with a simple sauce. When a texture-food stars in a hot stir-fry, however, it is common to contrast its blandness with a strong complementary ingredient, such as the practice of serving bamboo pith over bok choy and winter mushrooms.

Even when a texture-food is not the point of the dish, Chinese cooking controls texture exceptionally well. Velvet-tender meat and poultry are the standard in everyday cooking, and are achieved through various techniques, from removal of sinews, ligaments, and connective tissue, to slicing across the grain (beef) or with the grain (poultry and pork), to brining (chicken and seafood) to "velveting" (coating chicken breast slices with egg white and either cornstarch or water-chestnut flour, thus modulating the otherwise direct heat). In the West, when a restaurant achieves fork-tender beef, or silk-soft chicken breasts, it is considered an accomplishment, and draws praise. In China, it is expected. Most restaurants can do it.

The three classic benchmarks of excellence in texture refer specifically to how well the chef has changed the ingredient. In the final dish, the texture, as transformed, is often contrasted with other textures. Consider the first course of Peking Duck, as one example: the crackly skin, the delicate soft pancake, the cold crunchy scallions, the sauce, all together in every bite.

Cùi, 脆. Crispy, crunchy. It is natural to imagine this simply as something deep-fried, like pork crackling, like the crisply roasted, air-separated skin of Peking Duck, but cùi means so much more than that. Cùi is also crisp-succulent, as in fresh, barely cooked vegetables, and prawns so bursting with juices that they almost pop when you bite into them, not to mention the brittle-thin toffee shell encasing the skewer of sour crabapples you buy on the street in Beijing. Cùi is almost always a concocted effect.

Nèn, 嫩. To take something tough and fibrous, and render it delectably toothsome. This category includes the extraordinary range of dried, smoked, salted, and otherwise hard-preserved ingredients that chefs are able to turn back into tender, yielding, appetizing food. The transformational power of nèn can be witnessed simply by checking out the dried-foods aisle in any Chinese grocery.

Ruăn, 软. Soft as a cloud, completely yielding—a soft-boiled egg, the apex of velvet chicken, the custard-style Japanese tofu made with egg whites. Often ruăn is paired with another texture, as in the deep-fried cubes of egg-white tofu, which have very delicate, crisp golden crusts surrounding cloud-soft interiors.

Methods of Manipulating Flavor and Texture

Techniques of altering flavor and texture are well understood, and consistently applied. Rank and undesirable flavors are suppressed by the addition of ingredients like wine, ginger, spring onions, black and white pepper, and Sichuan peppercorn. Sugar increases and improves xiān flavor, while vinegar intensifies the heat of chiles, and sesame boosts xiāng. Fermented black beans add a powerful piquant taste; soy sauce provides a meaty note. Procedures and techniques are important too, some of them well known in the West (such as sautéing aromatics like ginger, garlic, and onion in hot oil to bring out their flavor), while others are not (like breaking all the bones in a whole chicken before roasting it, to release flavor, as do the chefs at Hangzhou's Lóu Wài Lóu [楼外楼] when they prepare their famous Beggar's Chicken).

Texture is just as closely controlled. From removing membranes and sheaths from chicken meat in order to "velvet" it, to soaking prawns in cold salt water to trap in enough moisture to "pop" when bitten into, texture is usually modified or controlled in some way. Sometimes ingredients are added to change texture, as when fatty pork is folded into shrimp balls to make them lighter, or when vinegar is added to a stir-fry of slivered (丝) pork or bamboo shoots, to keep the shreds tender. Other interventions involve maintaining tenderness by creating a barrier to limit direct heat, as when lamb, seafood, or chicken pieces are coated with cornstarch and egg white.

"In making a mixture you must judge to a nicety what is sweet, sour, bitter, sharp, and salt: you must know which has to be added first, later, and how much of each. This distribution is very complicated but it must be controlled in every detail by addition. The changes which take place in the food after it has been prepared in the dish are so delicate and mysterious that it is impossible to describe them in words."

-attributed to I Yin, ca. 1800 BCE